Microsoft Office 2019 For Home and Business Download
For work purposes and home use, Microsoft Office 2019 for Home and Business is suitable, it is very easy to download the installer from us. You can do it on the site, spending a minimum of time. Before you start downloading, you should familiarize yourself with the features and the main system requirements. They must be met so that your PC does not conflict with the installation of the latest version.
---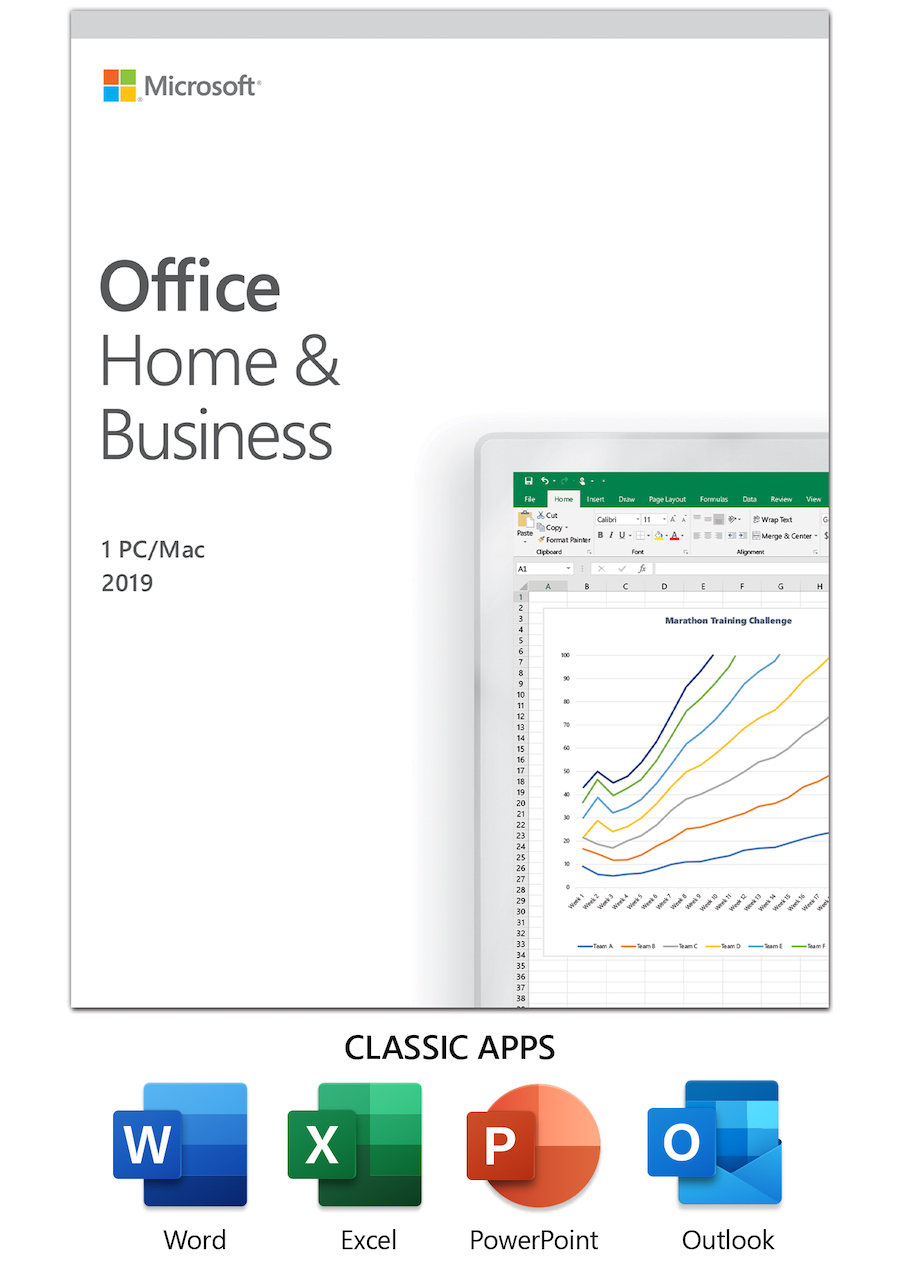 Manufacturer:
Microsoft Corporation
---
---
---
Size:
8 MB(Online), 3.43GB (Offline)
---
Interface language:
English or Multi-Lang
---
System digit capacity:
x32/x64(x86)
---
Release Date:
24 September 2018
---
Minimum system requirements:
Operating system from: Windows 10 or higher.
Processor from: 2 GHz or higher.
RAM from: 2 GB
Video memory: 512Mb
Free hard disk space: from 10 GB

Licensed product only
What is included?
This Microsoft product includes the traditional office applications. There's also Outlook mail. An office suite includes the essential tools you need to get the job done, solving all kinds of business problems, all the time, anywhere in the world. If you are satisfied with the composition of Microsoft Office 2019 for Home and Business software you can download the distribution here.
Main features of the new version of MS Office 2019
First and foremost among the most important features of the software product is Outlook. There have been a number of changes here, if you compare with earlier versions:
Updated contact info cards. You can now see the most relevant information about people and groups very quickly. Your interface is identical in both the browser and another version that was designed specifically for mobile devices.
Parcel/travel cards. Simple summary cards are stored in your inbox and can also be found in your calendar. With these items, you can search for bookings for travel and keep track of your packages; You can also find them on your calendar.
Preferences. It's not difficult, using this version, to highlight the main contacts. It is necessary to add an "@" sign before the names. You can do this in text or in a calendar entry
Sort emails. Now you can divide your inbox into two sections. The first shows you the sorted emails, and the second shows you the miscellaneous ones.
I also want to focus on the innovations that you've seen in your PowerPoint presentation product. Here we see the following changes:
Get full support for three-dimensional graphics when you create presentations
Analysis of the content of your slides in sequence. This allows you to add animated inserts for smooth, not abrupt transitions; Analyze the content of your slides in sequence.
Interactive Table of Contents. It helps you create a non-linear narrative with interactive slides;
Introducing icons; Introducing icons.
Enable to move around both slides and individual objects by using a useful tool like the Digital Pen
One of the most popular products is the word processor, Word. It has a translator (which works on a Mac, too, though). It also has a focus mode. It can be successfully used to remove unnecessary things. The Excel spreadsheet editor has also undergone changes. For example, users can now apply a new type of chart called «Funnel». Also, among the innovations is the timeline. It's a chart designed to put a sequence on a timeline.
Where can you get the original distribution?
If you need Microsoft Office 2019 home and business, downloading from the official website is the best option. One official license can be used on one device. The latest version is suitable for computers, for laptops. If we're talking about a personal computer, the bootloader must be the operating system Windows 10 (later versions are also suitable, including Windows 11), another possible option is macOS.
The original ISO image, downloaded for free from the official site, can be successfully used to install the new version. It requires very little effort. The installer will do most of the installation automatically. Pay attention to the bit-type of the system. There are different options: x86; x32 bit (x32 bit); x64 bit (x64 bit). Pick the one that's right for you.
In our blog you will find articles on:
Installing Microsoft Office 2019
Instructions for activating Microsoft Office 2019 by phone