Brand: Microsoft
Product Code:

office-2019-home-and-business

Availability:

In Stock
Activation:
Online, Phone, Chat with Microsoft
Manufacturer Part Number:
T5D-03189
Platform:
WIndows 10 and higher
Activation territory:
Worldwide (Except Crimea)
This product is sold for one operating system for Windows or for MacOS, but not for both at once! After payment write us which operating system you need the key for!
Personal use only.
Microsoft Office 2019 is a widely used software package for home and office work all over the world. Microsoft has even released a version of its product with the same name - For Home and Office. This product is rightfully considered the foundation for the workplace, a suite of applications with special business tools. Your team needs them for even more efficient and productive work. If you are interested in making everyday tasks at home and in the office even more intense and productive, you should definitely buy a Microsoft Office 2019 For Home and Business license.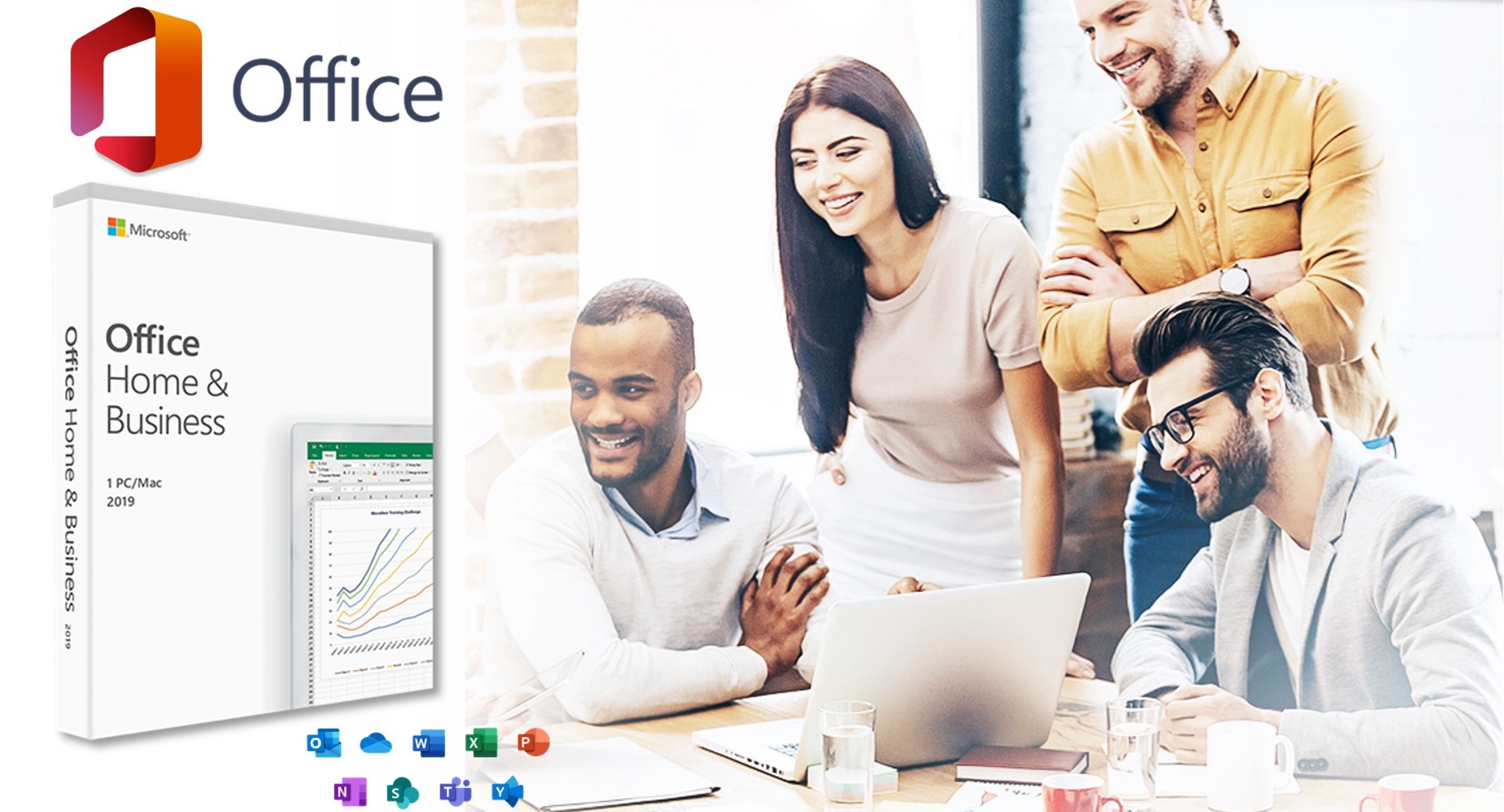 What changes MS Office 2019 Home and Business has received
The release of Office. For Home and Business 2019 is geared toward families and small businesses that need email and classic Office applications.
It includes.:
Microsoft Word: the most powerful and functional text editor.
Microsoft Excel: For home and business, there is no more advanced and functional tool than Excel, which makes it easy to make the right decisions based on the analysis of available data. This is what the advanced tools and functions are for.
Microsoft PowerPoint: is the best tool you can use to create presentations, with improved transitions. There are many other tools for working with audio and video.
Microsoft Outlook: a sought-after tool among users for dealing with emails.
Microsoft Publisher: utility that allows you to easily create reports, perform data analysis, provides the user with a list of tools for data visualization.
Microsoft OneNote: a software component with new functional tools that allow you to intelligently structure notes, thoughts so that they are securely organized and accessible.
Если вы решили приобрести Майкрософт Офис 2019 Для Дома и Бизнеса, знайте, что он включает еще Skype for Business Client, Office Online (ранее Office Web Apps) и InfoPath. В целом, это мощный набор инструментов для редактирования документов, создания таблиц и эффектных презентаций. Какими преимуществами лицензия позволит вам воспользоваться?
The primary benefit is the rich feature set provided by the company. A license secures the device you used to access your suite of office productivity apps. Our store offers easy ways to buy electronic Retail/ESD dongles at discounted prices. All you need to do is to download the official distribution package, buy a key and start using the software. We provide all conditions for reliable, fast and maximum profitable purchase of Microsoft software products.
Key features of MS Office 2019 Home and Business
You can always buy a Microsoft Office 2019 Home and Business license from us. You can download the free distribution in the 64-bit version. It is recommended for installation on a personal computer with 4 GB of RAM or higher. But it's worth evaluating application compatibility and other factors. You can also download the 32-bit app bundle installer. There are also x86 bit versions available. It's a one-stop solution for a diverse audience of computer users.
Our online store will provide:
official activation keys;
prompt delivery of the license to your specified mailbox;
the best price on the internet for electronic keys;
We will provide all the help you need to activate the software and install the key. If you have any questions, please contact our technical support.
We provide an inexpensive, unlimited, lifetime e-code to activate your office software package. All you have to do is gain the trust of our online store. We have the best prices on the web, buying from us, you will be sure that you are shopping with a profit for yourself and benefit for your computer. To take advantage of our offer, just use the form on the site and follow the simple instructions. We will be glad to help you
Specifications
Common to digital
Activation
Online, Phone, Chat with Microsoft
Manufacturer Part Number
T5D-03189
Platform
WIndows 10 and higher
Activation territory
Worldwide (Except Crimea)
The format of the license
ESD
There are no reviews for this product.