Download Microsoft Windows 10 Pro x64 Bit
Microsoft has developed a new version of the operating system Windows 10. «Ten» received several assemblies for different user categories. For home use usually choose the Home and Professional editors (silt just Pro). Both versions have received everything necessary for work, study, pastime in games. Download Windows 10 Pro iso x64 at least because this edition has a large number of built-in options and settings that make work with Windows even more efficient.
Windows 10 Professional
Ideal for installation on your home computer or laptop. Stable runs on low-power computers. Recommended for advanced users who need to initialize visualization and administration tools, business applications.
Note that the original distribution of the advanced version includes systems and updates available in the home build.
Main features of Pro:
improved protection from hackers and malicious acts;
more settings for working with virtual networks;
advanced encryption systems
easy interaction with branded cloud;
Tools for remote administration.
You can download the original Microsoft Windows 10 Pro at any time, but for full and constant use of the operating system you will need to buy a license key. The downloader contains the Any language, so there should be no problems with OS installation. By performing installations « a professional edition, the user will receive an enhanced system of information protection BitLocker, which allows encryption of all information stored on the hard disk.

Another built-in – utility; Hyper V. It will allow to install and test other operating systems in a separate window. If you need this feature, the decision to download Microsoft Windows 10 Professional x64 will be quite justified. The Remote Desktop tool will give you remote access to your desktop, which is very convenient in certain situations. Also in this edition, there is a service for interaction with cloud storage and the app store.
The system with what discharge to install?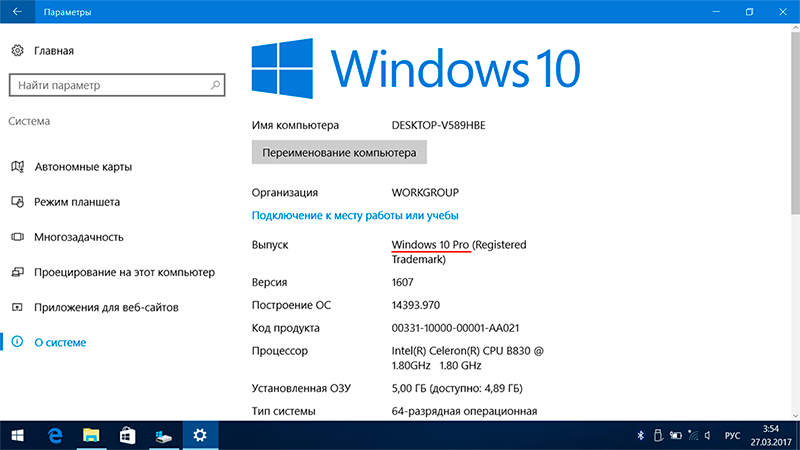 The new OS version can be 32 (x86) or 64-bit. Usually, the choice of users is reduced between their digits. The latest version of Windows for home use can be both 32- and 64-bit. The last bit is especially good for owners of powerful multi-core processors. After installing Windows 10 Pro x64 bit can achieve an increase in power and performance of the computer. 32-bit systems only support 4 GB of RAM! In terms of visual design, there is no difference between x32 and x64, only in the technical part.
The benefits of this Operating System over other versions
This is the most complete edition that supports all the basic and necessary tools for administration and work with the network environment. It has received a powerful system of encryption and protection of personal data. To install the build, you need to burn the ISO file to a DVD or USB flash drive.
All available tools in «Professional» Windows is extremely useful in a production environment. The user will get wide settings in terms of administration and the ability to work with group policy. Download Windows 10 Professional 64 Bit today is no big deal. We suggest you do it from our website. Samples taken from the official site! You are guaranteed to get a secure and complete operating system to solve a large number of tasks in both the home and work environment.