Microsoft Office 365 Pro Plus Download

It's hard to imagine a modern office employee without a computer with the Office 365 Pro Plus special software package. With these applications it is easy to create reports, make bright presentations, work with text files, tables and databases, as well as manage the work of large companies. Download Microsoft Office 365 Pro Plus for Windows 10, and for other platforms - MacOS, Android, Windows Phone. Another feature that distinguishes Office 365 from other Microsoft office packages is a floating release: the ability to endlessly update programs from the package to the most current versions. The package of programs is automatically updated once in three months. The advantage of MS Office is that the package provides an opportunity to remake PDF-files into text with the help of MS Word program.
---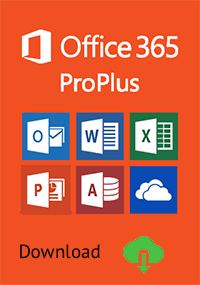 Producer:

Microsoft Corporation

Office suite version:

Office 365

Edit: Professional Plus
(Now title:
Microsoft 365 For Business or Enterprise)
Size of the installer:

6 MB (online), 3.4GB (Offline)

Interface language:

English, Multi-Language

Digit System:

x32, x64

Exit date:

28 June 2011
System minimum requirements:
Processor:

2.0 GHz

RAM:

2Gb

Video memory:

512 Mb

Free Places on Disk:

10G
Download from

English Language
What's the included apps in Microsoft Office 365 Pro Plus package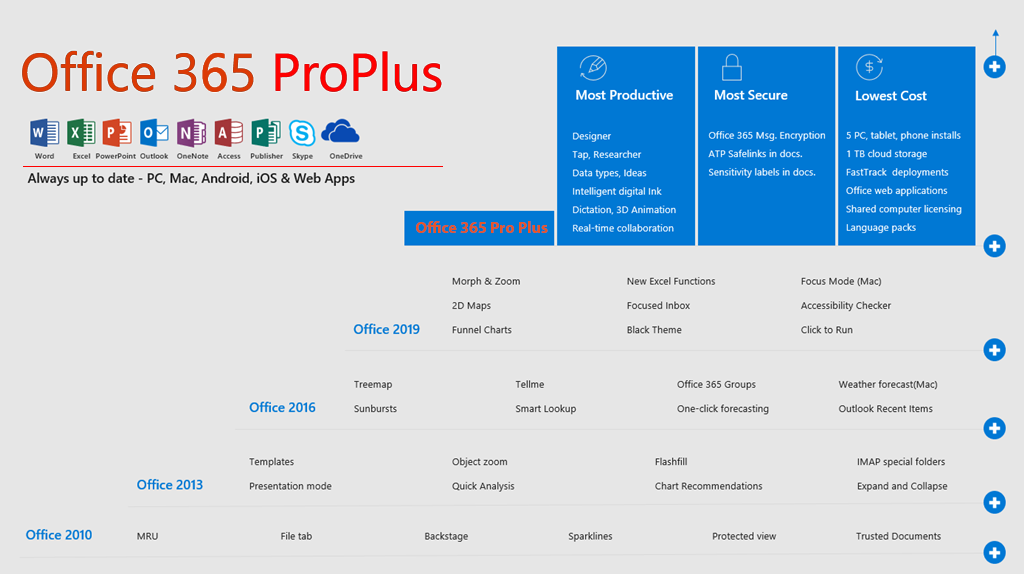 This package provides access to popular Microsoft office applications for collaboration with SharePoint, Lync, Exchange without the need to install them on the server of the organization. In this case, the organization is able to connect a different number of users depending on the needs and priority goals. To take advantage of all provided advantages, first of all you need to download the official MS Office distribution on your computer.
After that, you need to purchase a licensed key that will provide access to the following software packages from five different computers and mobile devices:
Exchange Online - email with your company domain, high level of protection against spam and hacking, provides a convenient calendar and contact list, as well as a list of tasks available to all users of the package
Lync Online - a special service that transforms communication with colleagues into an effective and interesting collaborative process;
Share Point Online - service for command editing of spreadsheets, text documents, creation of sites for publication and discussion of documents
Microsoft Office is a package of well-known applications for editing text documents, spreadsheets, databases directly in a web browser.
Download Microsoft Office 365 Professional Plus is worth it because the user gets 1 TB of free space in cloud storage. The license applies to each user, you do not need to pay extra anything.
Benefits of Microsoft Office 365 Pro Plus

Microsoft Office allows you to take advantage of all modern information technology without having to invest in your own network infrastructure. By downloading Microsoft Office 365 Professional Plus, you will be able to shift the routine work on data backup, focusing the efforts of specialists on priority areas.
Other advantages:
transparent and informative software update system;
Russian language support service
a guarantee of round-the-clock access to the software package;
Better built-in security and antispam/hacker protection.
On our site you can download Microsoft Office 365 Pro Plus for free, after which the user will be able to work on the principle of "click and work. This increases the speed of work with applications, it will take only a few minutes to launch them. Users can store files on local computers or elsewhere on the network. Files can be stored in the cloud, but you don't need to use it.