Microsoft Office 365 Pro Plus Download
It's hard to imagine today's office worker without a computer with the Office 365 Pro Plus suite of special programs. These applications make it easy to create reports, make colorful presentations, work with text files, spreadsheets and databases, and manage the work of large companies. You can download Microsoft Office 365 Pro Plus for Windows 10 and other platforms - MacOS, Android, Windows Phone. Another feature that distinguishes Office 365 from other Microsoft office suites is the floating release: the ability to infinitely update the programs in the package to the most current versions. The software package is automatically updated once every three months. MS Office also has the advantage of being able to convert PDFs into text using MS Word.
---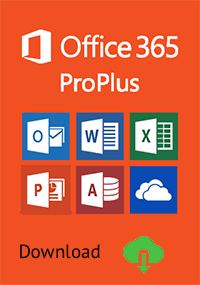 Manufacturer:
Microsoft Corporation
---
---
---
Size:
x32 - 6 MB; x64 - 3.4 GB;
---
Interface language:
English, MultiLang
---
System Size:
x32/x64(x86)
---
Date of release:
June 28, 2011
---
Minimum system requirements:
Processor from: 2.0 GHz or higher
Remote memory: 2GB and up
Video memory: 512 Mb
Hard Disk Space: 10GB and up

Licensed product only
What is included in Microsoft Office 365 Pro Plus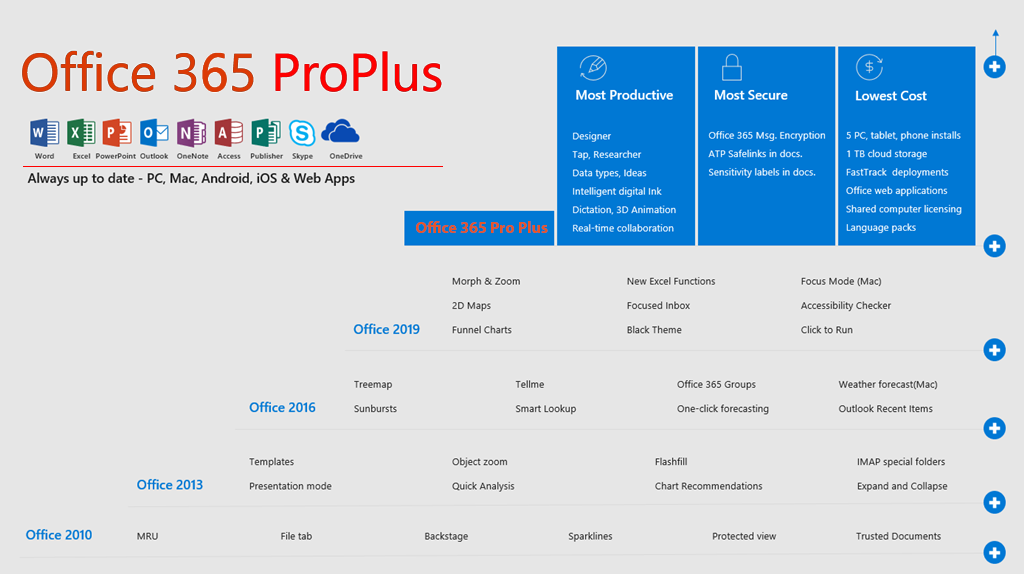 The package provides access to Microsoft's popular office collaboration applications with SharePoint, Lync, and Exchange without having to install them on the organization's server. Your organization is able to have different numbers of users depending on their needs and priorities. The first step in taking advantage of those benefits is to download the official MS Office distribution to your computer.
Then you need to purchase a license key that gives you access to the following software packages from up to five different computers and mobile devices:
Exchange Online - email with your company domain, high spam and hacking protection, easy-to-use calendar and contact list, and a to-do list available to everyone in the suite;
Lync Online - a dedicated service that makes collaboration and communication with your colleagues a powerful and fun way to work together;
Share Point Online, team-based editing of spreadsheets, word processing, publishing and discussion sites;
Microsoft Office, a suite of applications known to all users for editing text documents, spreadsheets, databases directly in a web browser
Download Microsoft Office 365 Professional Plus is also worth it because users get 1TB of free cloud storage. The license is per user and you pay nothing extra.
Benefits of Microsoft Office 365 Pro Plus

Microsoft Office lets you take advantage of all the latest information technology without having to invest in your own network infrastructure. By downloading Microsoft Office 365 Professional Plus you can take the drudgery out of backing up your data so professionals can focus on what they need to do first.
Other strengths:
transparent and informative software updates
English customer support;
with a 24-hour customer support package
guarantee 24/7 access to the software package
Best built-in security and anti-spam/anti-tampering system
You can download Microsoft Office 365 Pro Plus for free at our site and it gives you a "click and go" experience. This makes working with apps quicker and takes just minutes to launch. Users can store files on local computers or elsewhere on the network. It is possible to store files in the cloud, but you do not have to use it.
---
There are no comments for this post.