Microsoft Office 2016 Pro Plus Download
Successful performance of professional tasks is possible with MS Office 2016 Professional Plus, Download for windows is available here. As a result, you will get a new version suitable for different types of electronic devices: for computers, for laptops.
Key system requirements
In order for the installer to work properly, the following criteria are important:
Processor speed: 1GHz
Volume of RAM: 2GB
Disk space: 4GB minimum
Operating systems: 2GB
Operating systems: Windows 7 or later: Windows 8/8.1; Windows 10; Windows 11
If your system fully meets the minimum requirements listed above, it's very easy to try it out, just follow the instructions.
---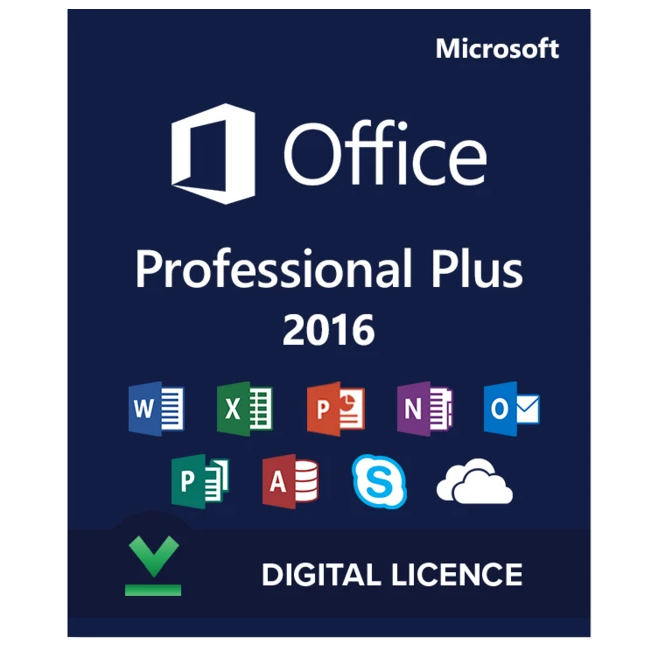 Manufacturer:
Microsoft Corporation
---
---
---
Size:
6 MB(Online), 3.3GB (Offline)
---
Interface language:
English or Multi-Language
---
System digit capacity:
x32/x64(x86)
---
Release Date:
September 22, 2015
---
Minimum system requirements:
Processor from: 2 GHz or higher.
RAM from: 2 GB
Processor with support for SSE2 instructions
Video memory: 512Mb
Free hard disk space: from 10 GB

Licensed product only
Features of Microsoft's office suite
The official version of MS Office is considered one of the most in-demand when you consider the situation in the software industry. This is not surprising if you take a look at the programs included in Office Pro Plus 2016. Here are the following components of importance to the user
email to quickly exchange messages and files
quality text editors
Tools to do things with spreadsheets
Tools to do things with tables
Tools for working with datasets
information databases
tools for creating colorful presentations
other office tools that are now being used almost everywhere.
The professional version we offer is designed as fully equipped as possible. It includes all the tools mentioned above, plus Skype for Business and other goodies.
The developers have improved this version, which is evident when you compare it to its predecessors. Among the most important changes are:
improved interface
Integration with the web, making online spell checker available
integration with search services, and you can do it directly with the editor
User mode. Multiple people can work on the same file, making adjustments. Remote access makes it possible.
easy sharing of files via cloud services.
Official representatives of the company say that the latest version was built from scratch, meaning they did not use the previous version as the base. Because of this, the developers were able to use an entirely new concept. This made it possible to significantly raise the level of performance. Use the version downloaded from the official site to successfully use a software product that supports the Russian language.
The software suite is ideal for people who prefer to use tools such as the mouse and keyboard to input data. Representatives of the company see it as a superior option that delivers high productivity across the company.
Word - is a popular text editor among the staples of the suite includes a range of tools for working with text documents. The structures and types are quite varied. A number of actions are possible with PDF files.
How can I get an ISO image for free?
You should use Microsoft Office 2016 Professional Plus to be more productive, you can download the distribution from us. Use the distribution to install the new version successfully and quickly.
The installer will take care of everything automatically. You don't even have to do anything special. The loader has a number of tools that you need to locate all of your digitally-rendered data on your hard drive. Pay attention to which operating systems the versions from the site are designed for. There are versions for: x86; x32 bit (x32 bit);x64 bit (x64 bit).