Brand: Microsoft
Product Code:

win-10-home

Availability:

In Stock
Activation:
Online / Phone / Chat
Microsoft Windows 10 Home Buy
Not so long ago the operating system Vindovs 10 became available to users. As before, it received several editions. For home use, there is a Home Assembly. Initially, the developer planned that the new OS will be a continuation of version 8.1. But at the last moment the plans were changed, and in 2015 was presented the "ten", used today by computer users everywhere.

Some modifications of the system have their own features, but the differences between the Home and Pro versions are minor. If you want to buy a Microsoft Windows 10 Home key, you have come to the right address. We have an opportunity for everyone to buy a license key, which will allow you to freely use the full product from Microsoft.
Vindovs 10 Home
More often than notebooks and tablets of the initial level are equipped with Home edition, but quite widely the operating system capabilities are implemented in home computers. Now the user will get a system with an interesting menu "Start": it is a kind of symbiosis of those solutions that we saw in Winds 7 and 8.1. The menu does not open to the whole screen, but only half of it, but at the same time the possibility to fix live application tiles and icons has been preserved. It's also easy to attach contacts, files and other information. This is one of the reasons why many people want to buy a Microsoft Windows 10 Home key. But this is not the whole list of new features.
What else does the "ten" of the Home-Edition give?
New abilities of Cortan's voice assistant. The Assistant is able not only to search for information on the network, run applications and share facts, but also to create lists and tasks in a notebook, and received a new feature "Silent Clock"
Windows Hello. This is a biometric logon tool. But for this you will need additional technical equipment, such as a retina scanner. The technology works faster and more accurate compared to FaceID from Apple.
Updated Notification Center. The Update Center now has more shortcuts for the most frequently performed actions. It also shows you the achievements from Xbox Live.
Universal search. Now it is much easier to find the information you need. There is a separate button for search tasks, which greatly simplifies this process. Buy Vindovs 10 Home license is not only for this reason. The search algorithm has been improved and now it works much faster.
One more interesting feature is virtual desktops. Often, Microsoft products have been criticized by users because of the idea of virtual desktops. Now it is implemented and brought to mind. The user can call all the desktops and manage them at the touch of a button. It is quite convenient and practical.
How to buy Winds 10 Home Key?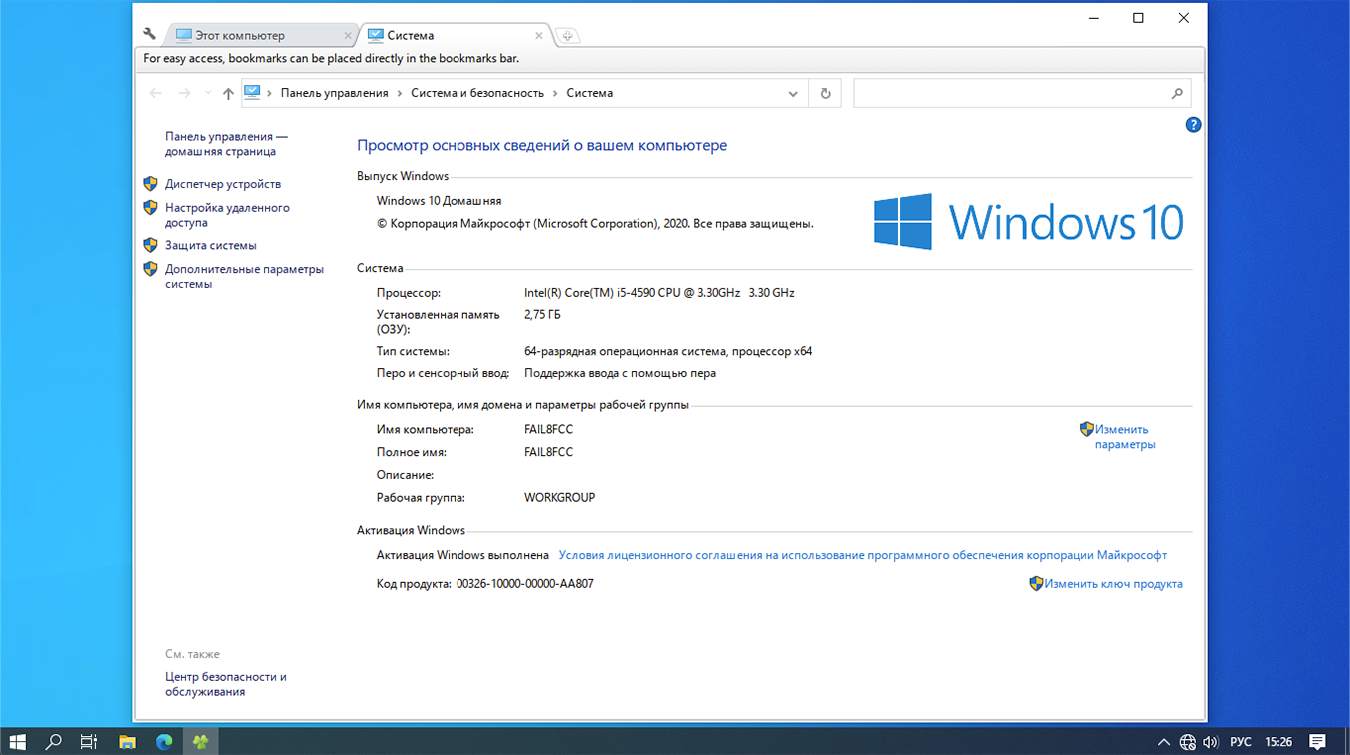 First of all, make sure that your computer technically meets the minimum requirements. Your computer's processor should have a clock frequency of 1 GHz or more, and your hard drive should have at least 15-20 GB of free space. After making sure that your computer meets the requirements, you only need to buy a Windows 10 Home key. This can be a 32-bit or 64-bit version of the operating system. For powerful computers, you usually buy a second one.
Also on this page you can Download Vindos 10 Home Original Distribution
Your computer will be maximally protected and invulnerable only after license purchase. For this and other reasons, experts recommend buying a Microsoft Windows 10 Home license to be sure of its security and safety of personal data.
Specifications
Common to digital
Activation
Online / Phone / Chat
Installation instructions:
The detailed installation is described on our website to read it by clicking on the link:
Activation Guide:
Click here to find out how to activate the program correctly and quickly:
There are no reviews for this product.