Download Kaspersky Internet Security for Android for free
This is a powerful antivirus that includes the most effective tools in a pleasant interface. Kaspersky Lab has taken a thorough approach to winning over its audience and owners of mobile devices. Thus, a high-quality antivirus product called Kaspersky Internet Security appeared. This is a mobile application available for installation on smartphones running Android. The elaborate interface pleasantly surprises, as well as the improved version of the protection. On our site you can download Kaspersky for Android phone absolutely free. You will have at your disposal one of the most effective and best protection for your mobile device. High results in the field of virus detection and removal have been repeatedly proved by independent laboratories.
---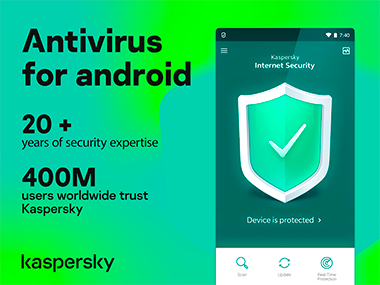 ---
---
---
---
Interface language:
Russian, English
---
---
Date of release:
June 28, 2014
---
Minimum system requirements:

Only licensed product
Effective protection against malware
Like any other antivirus application, Kaspersky scans your system for viruses, including Trojans, worms, and other malware. It automatically scans programs as soon as they are downloaded from the Google Play app store or have files with an apk extension. When the utility finds insecure or potentially insecure software, the user is offered a variety of solutions - delete, ignore the message or use help. Download Kaspersky Android for free to keep your mobile device safe from all kinds of troubles.
Modules contained in the program:
"Antivirus". This module offers several ways to interact with a stolen smartphone. You can lock it, track its location, and delete all the information on your phone so no one else has access to it.
Remote control via SMS. Security features can be activated with a single message and a unique code. They will be available as soon as you decide to download Kaspersky installer for Android for free.
Data protection. This program has a unique data protection system that allows you to hide phone calls, correspondence and even individual applications. Earlier versions of the program were also endowed with similar functionality, but the value of such technology was not as significant as it is today.
The latest version of Kaspersky for Android is a powerful set of protection modules that are guaranteed to keep your mobile device safe from unwanted consequences of the system infection.
Why download Kaspersky for Android
Using your mobile device is not a guarantee that you will be free from phishing scams and stolen passwords. Kaspersky has considered this peculiarity and included effective tools in its program. So the new version, which is completely in Russian, includes protection for web surfing. Users choose which browser they want to use, and then run it through the antivirus app.
So the new Kaspersky for Android contains the most tested and proven privacy protection solutions available. That's why numerous owners of mobile devices want to download Kaspersky Internet Security for Android for free. A pleasant interface disposes to a comfortable handling of the program. You will be able to block unwanted calls and messages. Also, the user will be notified every time when any manipulations are made with the SIM card of the phone.