Download Kaspersky Anti-Virus for free

If you spend a lot of time browsing the internet, checking various sites, downloading files and other content, you should take care of the security of your computer. Quite a lot of users prefer to download Kaspersky Anti-Virus for free and forget about all that stuff. In fact, it is a powerful tool to protect your computer or laptop from Trojans, ransomware, spyware and adware.
It works in real-time and automatically updates its signature databases. Importantly, the developer is constantly working to improve his product, offering new solutions and features. By installing it on your PC and spending just a few minutes of your spare time, you get basic protection against all viruses, including the newest ones.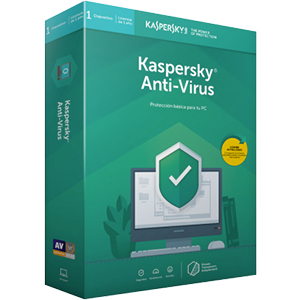 Manufacturer:
Kaspersky Labs
---
---
---
---
Interface language:
English, Multi-Lang
---
---
---
Minimum system requirements:
Processor from: 1.66 GHz or greater
Remote memory: 1GB and up
Video memory: 512 Mb
Hard Drive Space: 1.5 GB and up

Only licensed product
Kaspersky Anti-Virus features
It is very easy to download Kaspersky Anti-Virus 2021. You can do it on our site. However you should take into consideration that you will have only 30 days to get acquainted with the product. Later on you might need to buy a license key to protect your system from viruses.
Right after the installation and startup you need to update the signature databases manually. In the future it will be done automatically, but when you start using the product, it is better to do it yourself. After the database is updated, run a scan of the hard disk and removable data storage devices. This will require a certain amount of time, but it is best not to neglect this recommendation. After the hard drive has been checked, including the system folders, you can consider Windows 10 x32, x64 fully protected.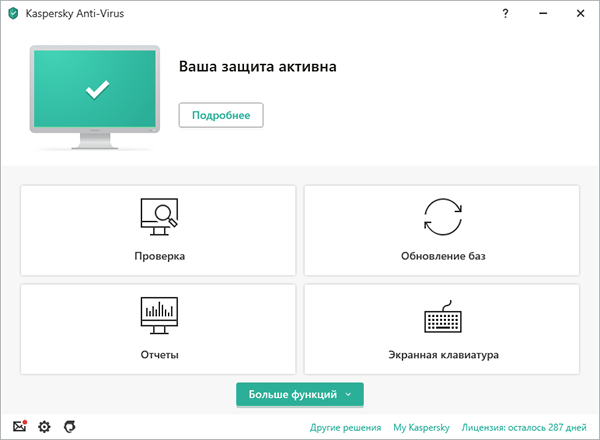 Main features of Kaspersky Anti-Virus:
reliably protects against all viruses, including those not yet in the database
recover Windows 10 and other versions after infection
monitoring vulnerable operating system components
checking downloaded files
Automatic database updates
automatically updates
Customizing the software to meet specific user needs
The first and most important functionality of the program is the ability to scan for potential vulnerabilities. The second most important Anti-Virus feature is recovery from infections. Here the main thing is not to confuse Kaspersky Anti-Virus with Internet Security because the anti-virus has no parental control or protection for financial transactions.
Download Kaspersky Antivirus for free
Downloading the Kaspersky Anti-Virus distribution is a matter of a few minutes. After that, the user's computer or laptop will be protected from all kinds of modern Internet threats. If you find that the performance of your PC has dropped significantly, the first thing you should do is scan the system for cryptomainers, ransomware and spyware. All of these malicious components significantly decrease the speed of your device.
The benefits of antivirus:
fast to install and configure
does not require any system resources
high security level
automatically updates
compatible with Windows 10 for 32 and 64 bits
uses the cloud
Feedback from customer support
intuitive operation
For these and many other advantages users prefer to download Kaspersky Antivirus installer so they can enjoy all the benefits of the internet without unnecessary worry. You can also sync your computer and mobile accounts which makes it much easier to use the app.